This tutorial has been taken from my
old blog
- it will be deleted from there as soon as things are up and running here .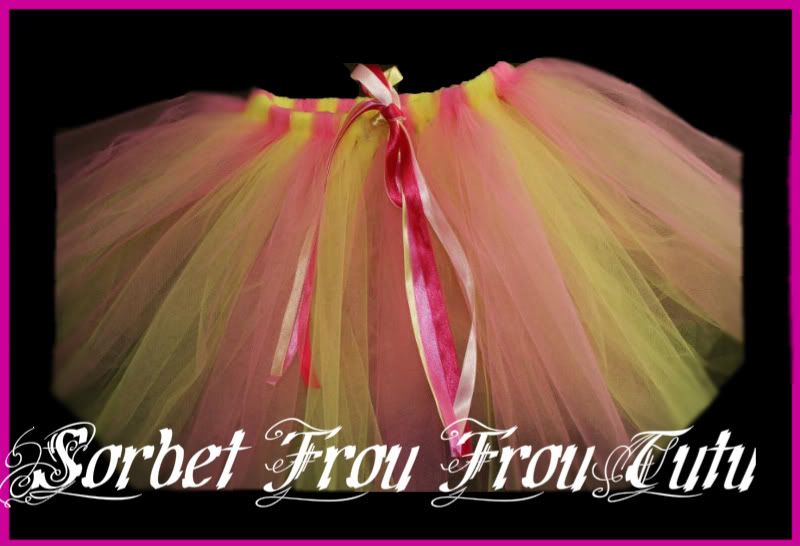 As of the 1st Jan 09 I have decided to stop making Frou Frou Tutus for sale - feel free to use this pattern and if you are after fabric let me know as I still have some available :). I've got some more ideas in the pipeline so keep your eyes and ears open :D

I've decided to share my pattern (well instructions) of how I make the Frou Frou Tutus (WORK IN PROGRESS -PHOTOS COMING

These tutus are great for parties, dressups or even everyday wear (what girl doesn't want to be a princess or a fairy or a ballerina :D - though mine often want to be wee witches (and they are very good at it too )

The Sewn waistband gives you a practical skirt with a nice finish. Unlike no sew tutus this one will last longer and look tidier.

The Ribbon tie closure doubles as an adjustable fit - one size will fit for ages - or fit children of different sizes - The ones I make fit from 6ish months to 5ish years - great value for money :D

Time to make - about 30-45mins all up :D

So here we go (remember this is a WIP hehe)

Ingredients
For a size up to 5ish larger and you will need more tulle

3 or 4m 150cm Tulle (you will need 5 or 6m if it is shorter) - 2m each of 2 colours -the softer the better, I use bridal tulle but you could use tulle from spotlight, it's harsher but have a feel and get the softest one. If you have 6" spools then you will need 2 spools for a tutu UPDATE : 1 Jan 09 - Spotlight now have a softer Tulle for $5.95/m in some pretty colours.
10mm or wider non roll elastic
2x 50cm of Ribbon
Matching thread
Other useful tools - Rotary cutter and mat, Ruler, Chair ;-)

Take the waist measurements (I take 1 or 2 cm off as the elastic will give a bit to fit nicely) and the waist to knee (or wherever you want the tutu to fall) measurements - multiply length measurement by 2 and add 1inch
Cut your Tulle into strips 6inches wide by whatever your final length measurement is (this is where a rotary cutter and ruler come in handy as you can do multiple strips at a time)
Cut your elastic to the waist measurement
Sew the Ribbon to each end of the elastic and then seal the ends of the ribbon with a lighter so it will not fray
This is where you use the chair :D Tie the Elastic around the chair - be careful not to twist - make sure elastic is stretched reasonably firmly so that you get a nice gather for the final product
Take a strip of Tulle and fold it in half lengthwise (pics coming) with the folded end facing down infront of the elastic - pull the long pieces over the elastic and through the loop made by the fold (I know it doesn't make sense - the pics will clarify)
Repeat 6 until the elastic is completely covered
Make sure all the ends are facing down and are quite firm
Using a 3 stage zig zag (reasonable wide stitch length) sew over the tulle across the width of the elastic
Lay tutu on the mat and with the ruler and rotary cutter trim the bottom edge so it's nice and even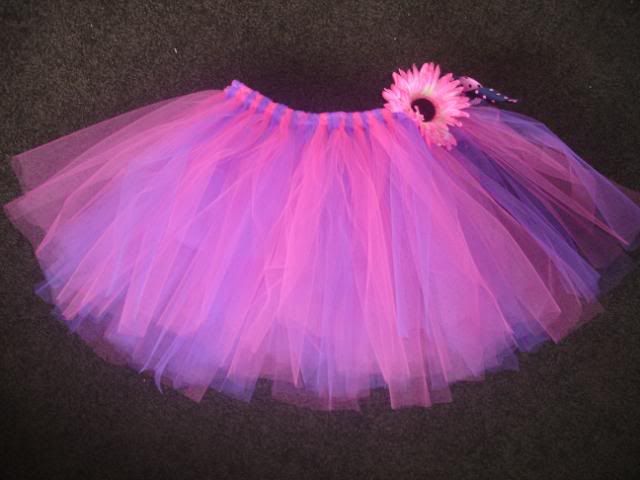 Voila 1 tutu :) now go and make more :) or if you would prefer - then contact me and I can make you one (or 5 lol)

If you do make one please send me a pic or a link - I'd love to see it :D
Here are some of my other creations :D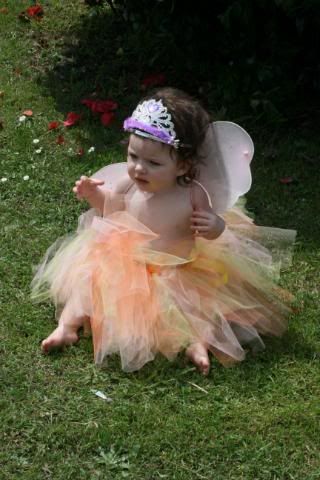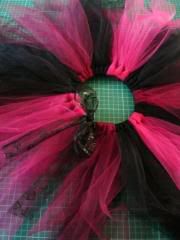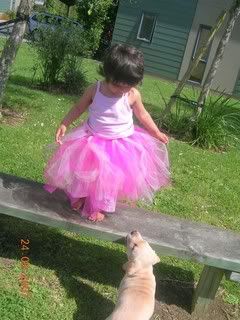 Feel free to linkback to this site but please DO NOT republish without permission

Photos are copyright of blog owner - please do not post on other sites without permission from blog owner