After chatting with a few friends I thought I'd share how I made the Pettiskirts :D It's actually really easy - just a tiered skirt - but time consuming. Put away at least a day's worth of free time ;)

There is a bit of math involved so I'll try my best to explain it (I hate maths :oops: )

Ingredients

6m +(maybe 7 just to be safe) of 150cm wide Nylon Chiffon - also called Fairy floss at Spotlight - it's about $5.95/m (this made the size that fits my 2 yo and 4yo

but has an adjustable waist so could fit longer)......the amount of fabric you use is totally dependent on the size you make - your layer widths and your ruffle factor....err on the side of needing more not less. You can always make ruffles to add to singlets and nappy covers to make a matching outfit :D oh and another thing... PLEASE make sure

it's NYLON and not Polyester or you could have an awful time sewing it together as polyester unravels.

1/2m Approx of Satin

Elastic

Ribbon

A ruffler foot (or Lots of Shirring Elastic and a billion pins)

Thread

Rotary cutter (I actually cheated and used a guillotine as there is lots and lots and lots of cutting involved)

Directions (I'm hopefully going to have pictures to go with this - whatever isn't clear please ask - I suck at explaining things )

Step 1. Measure childs waist and multiply x 2 = A (ie 52cm x2 = 104cm)

Step 2. Measure the "drop" so waist to wherever you want the skirt to end up - (the ruffle fluff will make this sit a little higher so add a bit of length if you want) and divide by 3 = B

Step 3. Do a test ruffle on a strip of chiffon .5cm from edge in your preferred manner (ie shirring, hand gathering or ruffle foot) the length of measurement B - Re measure once ruffled and then divide the non ruffled width by the ruffled width to get your ruffle factor (150cm / 50cm =3) NB: remember your results may vary depending on your machine and method of ruffling

Step 4. Do the same as Step 3 but the width will be 6cm and do the ruffle in the centre of the fabric - This will give you the ruffle factor for the "Ruffle Fluff" (the stuff at the bottom that gives it its poufiness) so 150cm /25cm = 6 NB: remember your results may vary depending on your machine and method of ruffling.

Now that you have these results you can work out your fabric etc.

Taking your measurements work out how many strips of fabric you will need.

Waistband: Fabric needed SATIN: Width =A (ie 104cm ) Length =Bx 2 +about 2cm seam allowance (so 15cm x2 =30cm +2 =32cm ) So Cut satin 104cm x32cm (with me??)

The skirt has 2 layers an inner and an outer layer - so you will basically be making 2 tiered skirts sewn together one on top of the other.

Tier 1 = A x ruffle Factor from step 3 (so 104 x 3 = 312) so fabric is 150cm wide - I just rounded my total to the nearest 150cm to make it easier on myself - so 300cm (THIS NOW = C ). and the length you make them is B (15cm) (I didn't worry too much about seam allowance but you can add it if you like) - if you fabric is 150cm wide then you will need 2 strips (selvedge to selvedge) 15cm long for each layer (inner and outer).ie.... 4 strips total 15cm in length by 150cm wide
Tier 2 = C x Ruffle factor from step 3 = D (so 300 x 3 = 900) again you will need 2 layers so multiply x 2. =1800 (divide by the width of your fabric to get the amount of strips required) so 1800/150 =12 strips (selvedge to selvedge ) x 15cm in length
RUFFLE FLUFF

Again you need two layers. So here we go with the maths again. Use measurement D from above - x Ruffle fluff factor from step 4 ie 900 x 6 = 5400cm (divide by 150 to get amount of strips required ) 5400/ 150 = 36 strips (x 2 for the layers) = 72 strips 6cm wide. You can make them thinner but I wouldn't go any less than 4cm as this is what makes it fluff up.
Putting it all together
......work in progress......

There will be pictures to come as soon as I get time to make another one :D

For the moment I'll start on some basic steps.

WAISTBAND:

Take Satin and fold it in half (lengthways) wrong side together. With a cool iron...Press so you can see the crease when unfolded.

Now with short sides together (right sides facing) and making a circle. Sew together to crease using a 5mm seam allowance. Back stitch. About 1" (or however wide your elastic is) from the crease start sewing the other edge together - the gap left will be for you to thread your elastic/ribbon tie through.

Fold along crease - wrong sides together. Sew about 1" in from crease making a casing. I like to topstitch 1/8" from the crease so it makes a nice channel in which the elastic can run through.

Make waistband elastic a bit shorter (about an inch of so ) shorter than what is required (measure so it's not too tight but not too loose) then sew the ribbon to each end of the elastic.

Thread this through the waistband. and tie off :D

To stop ends of ribbon unravelling use a lighter and slightly melt the ends.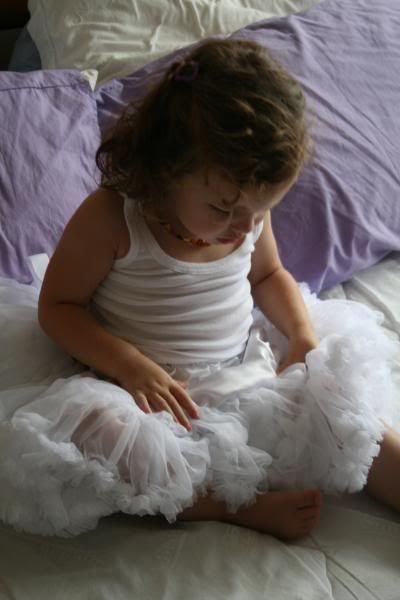 Putting the skirt together.....

I like to start from the middle and work in steps

Sew your tiers into strips - you will get a very long strip per tier.

I like to use shirring elastic for this part but you can use whatever your prefered gathering technique is.
Sew a strip of shirring elastic at the top of each tier
Then attach your tiers together (just like a tiered skirt)
The skirt has two layers - an inside layer and an outside layer.

Once the tiers are sewn together (you should have 2 pieces - an inside layer and an outside layer) I do the ruffle fluff. I prefer to use a ruffler foot for this and I don't bother sewing my ruffle fluff into a long strip I just slightly overlap it and run in through the ruffler foot...if you are using a ruffler foot you can just attach the ruffle fluff straight to the skirt - it's so ruffly you can't tell it's not joined. I have used shirring elastic to do this and i do the same thing except I sew the ruffle fluff seperately and then attach it to the bottom tier...hairclips come in handy here - the ones that snap closed. I prefer them to pins as they stand out more and less chance of running over them with your machine.

Once the ruffle fluff is done then it's time to attach it to your waistband. You will notice on your waistband that you have two layers. Attach the top of each tier to one of those layers. You can either join it into a circle or if like me you can just sew the chiffon around the waistband and when it reaches the beginning again I just keep sewing it around. You can't tell that there is no side seam as the skirt is so full :) I'm all for easy.

Once both layers of chiffon are sewn to the waistband you can add a ribbon, or elastic or a combination of both (this is what I do so both girls can wear the same skirt - just sew ribbon to each end of some non roll elastic and then it becomes adjustable) then your pettiskirt is finished (apart from all those billions of pesky threads you need to trim if you don't trim while you are sewing.

I do have pictures I just need to find them on my computer and make some sense of them :)

ETA: This is just a rough copy - any mistakes let me know I'm just trying to get this on here for those that want it :)